At Clear Braces Direct London, we've guided nearly 6000 people through the aligner treatment process, and therefore we know quite a bit about the treatment. So what's it really like to live with a clear aligner?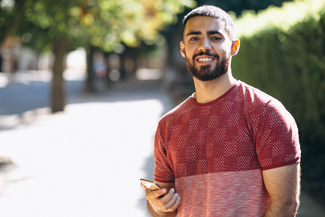 Clear aligners from Clear Braces Direct London are some of the UK's top orthodontic tools and can only really be compared to the reach of traditional braces in their widespread popularity. Not that you notice clear aligners; patients can go out by day without a second look from those around them, therefore it is understandable how iconic they have become through their subtlety.
But the popularity of these aligners is due to more than just appearance. For instance, the fitting of an orthodontic brace can take more than an hour, whereas the fitting process for a clear aligner is more like being measured for a tailored suit. The priority is to take the most accurate possible measurements of a patient's teeth; we found the best way to do this is with an intraoral scanner. This device makes a 3D model of your mouth from the inside far less invasive and a lot more comfortable than dental moulds.
Living with and using clear aligners every day
One of the better things about clear aligners over the standard metal brace is their greater degree of flexibility for the wearer. You can remove your aligner at any time, unlike a fixed brace.
From a medical perspective, aligners are definitely a double-edged sword, as the responsibility of continuing treatment is entirely placed on the patient rather than on the orthodontist at the clinic. Aligners are only effective if they are being worn 20-22 hours per day; this is considered the minimum use in order to maintain the treatment schedule. Removing aligners for extensive periods will not only slow down the overall treatment time, but could also result in having to restart treatment from the beginning.
This is very much a case of commitment, Thankfully aligners are very comfortable to wear and rarely create an issue for patients, who often forget they're wearing them at all. Being completely transparent, the patient can see the changing tooth position, reassuring them as to how effective the treatment is and helping them to remain motivated and wearing their aligners. This is not the case with traditional braces which obscure the progress of realignment until they are removed.
Damage to aligners and accidents
In everyday life, accidents happen and it is likely that any orthodontic brace will take a few knocks on the way; traditional braces are designed to be hardy in order to survive the entire treatment schedule. Each aligner is only meant to function for 2 weeks and works in sequence with many others. This allows them to be thin and more comfortable. Unfortunately this also makes them easy to break; if you attempt to eat with them in or wash them in hot water, they can become irreversibly damaged. We at Clear Braces Direct London can rapidly replace damaged aligners in less than a week in order to minimise any delay in the treatment.